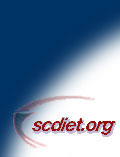 SCD Archive
The old homepage for SCDiet.org



Below, you are looking at the OLD homepage for scdiet.org. To access the new homepage click here. The links from this page should take you to the SCD archives which are located in this directory.

If you are unable to find an archived page because the link has disappeared, please use try SCD Search function. If you are still unable to locate the page, please email the webmasters via this Feedback link.

Please note: due to the nature of listserve discussion, you may find information in the Archives directory that is not SCD-specific. Please refer to Breaking The Vicious Cycle and the Resources, FAQ, or Recipes sections for the most current SCD information.

Thanks!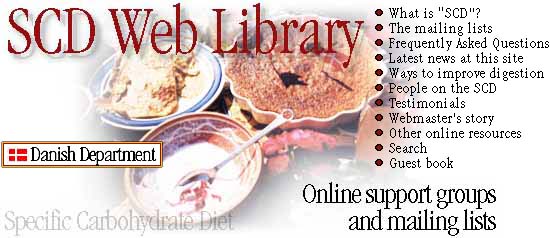 The basic principle of the Specific Carbohydrate Diet is: never eat something that your intestines cannot digest. There are specific carbohydrates which are trouble makers in the digestive system, especially those suffering Crohn's Disease and Ulcerative Colitis.

The SCD Web Library was founded in 1996 and is an edited, purposeful compilation of listserve communications of over 650 people that are getting real results from dietary adjustments.
Recipes:
Index of the more than 250 SCD recipes at this site<NEW
Deborah A. Dowd's Recipes #1
Recipe links
Meat dishes
Fish dishes
Indian dishes
Cheese dishes
Vegetable dishes
Sauces & dressings
Soups
Other
Drinks and desserts
Bread, crackers, cakes and cookies
Sweet, candy, snacks and confectionery
Dry Curd Cottage Cheese (DCCC)
and Sour Cream


Advice concerning:
Wine
Almonds and Nuts
Aloe Vera Juice
Cheese (in general)
Drinks
Dry Curd Cottage Cheese
Echinacea
Eggs
Fish Oil (Omega 3 Oil)
Flax seed
Food in general
Garlic
Honey, Vanilla, Dextrose, Sugar, Sweeteners, etc.
Lactose
Oil, Spices, Seeds, Fruits, etc.
Probiotics
Raw food
Vitamins, herbs, etc. <UPDATED
Water
Watermelon Wine
Yoghurt
and some figures and numbers

Questions and answers on...
Acne
Allergies / Food intolerance
Arthrisis
Camping & vacations
Candida
Celiac disease
Children & surgery
Cholesterol, fat, animal fat, weight, teeth
Chronic Fatigue Syndrome
Computers
Constipation
Cramps: See Muscle cramps
Drugs or no drugs
Eating Out / Restaurants
Energy (low energy)
Exercise
Floaters
Headaches
Hormones & the female cycle
Muscle cramps
Proteins (hydrolyzed)
Religion (and bread)
Relapse / flare up
Restaurants
Salicylate
Skin rashes & excema
Sleep
Smoking, nicotine
Starch test
Swelling
Teeth
Weight (gaining / loosing)
When going off the diet


Questions and answers to Elaine Gottschall - an online interview [1] and [2]

Debate and concern about the Specific Carbohydrate Diet [1], [2], [3] and [4]

Survey responses [1], [2], and [3]

Excerpts - letters and discussions from the mailing list 1996:

[1] [2] [3] [4] [5] [6] [7] [8] [9]

Excerpts - letters and discussions from the mailing list 1997:

[10] [11] [12] [13] [14] [15] [16] [17] [18]

Letters of the Long Island SCD-list

Doctors

Other IBD-Diets

Dr. Wolfgang Lutz

Dr. F. Batmanghelidj

Research and treatment news <NEW

SCD Humour :-)

Books about Crohn's and Colitis <NEW
" Let thy food be thy medicine. " Hippocrates
---
Danish department
What is SCD?
The mailing lists
FAQ
Site news
Improve digestion
People on SCD
Testimonials
Survey
Webmaster's story
Other online resources
Search
Guestbook
---
The SCD Web Library contains approximately 7.1 megabytes of written information about the SCD, equal to approximately 3,800 typed A4 papersheets. Since November 8, 1996, the web library has had
visitors who have made more than 3,000,000 inquiries. The site has distributed over 5.12 gigabyte of written information. Editors: Mike Simons and Mik Aidt

The server space for this web site is generously provided free of charge by Inform


---