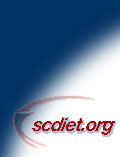 Below you'll find some of the vegetable recipes that members of the SCD mailing list have mailed to one another.... If there is any contradiction between instructions in Breaking the Vicious Cycle and any recipe in these archives, kindly adhere to what the book states.



1 cup ground sunflower seeds

1/2 cup grated raw carrots

1/2 cup finely chopped celery

2 tbsp chopped onion

1 tbsp chopped parsley

1/4 cup homemade SCD tomato sauce

1 egg

1 tbsp oil

1/4 tsp salt

1/2 tsp basil

1 tbsp chopped green pepper

Mix all ingredients and pat into a 9 inch square pan. Bake at 350 F (180 C) for 20-25 minutes. Cut into squares -- can eat in lieu of burgers.

Tara Gustafson




1/4 tsp. salt
1/4 cup butter, melted
4 eggs, beaten
1 cup farmer's cheese or dry curd cottage cheese
4 oz. chopped green chiles
1 (4-oz.) jar pimientos
2 cups shredded monterey jack cheese
green pepper

Combine salt, and butter in large bowl. Add eggs, farmer's cheese, chiles, pimiento and cheese; mix well. Pour mixture into a lightly greased 10x6x2 in. baking dish. Garnish casserole with green pepper. Bake, uncovered, at 375 F (200 C) for 30 minutes.



2 large portobello mushrooms

2 slices of Lois Lang bread

few slices of Monterrey Jack cheese

Sauce:

olive oil

red wine vinegar

thyme

dill

salt

pepper

Veggie topping:

sliced tomato

chopped green onions

sliced red and green peppers

1 clove of garlic chopped in large pieces - to flavor surrounding veggies

- Brush portobellos (without stalks?) and other veggies with vinegarette sauce
- broil/grill veggies under low heat
- serve mushrooms topped with veggies on toasted lois lang bread
- place slices of jack on top while hot to melt

Melissa O'brien



- from the Pillsbury cookbook.
1/2 cup chopped green onions

2 TBS butter

3 cups mashed, cooked squash (acorn or butternut)

1 cup grated Parmesan cheese

4 eggs, beaten

1 to 2 TBS honey

1/2 tsp dry mustard

1/4 tsp pepper


Heat oven to 350 degrees. Oil a 3-quart casserole dish. In small skillet, cook onions in butter until tender; set aside.
In large bowl, combine squash, Parmesan cheese, eggs, honey, dry mustard and pepper; mix well.
Add onions; stir gently. Spoon into prepared dish. Bake for 30 to 40 minutes until set.
6 to 8 servings.



Parmesan Squash (II)

Summer squashes are the soft ones like zucchini, or crookneck yellow.

You do not have to peel them, just cube and steam, microwave or cook in a little water for 5 - 10 minutes.

Winter squashes are the hard ones like acorn, butternut, banana or

spaghetti. Cut these in half, scoop out seeds and strings, bake covered

in a pan, cut side up with a little water for 30 - 50 minutes at 350

degrees F (175 C). When they are done (soft), you can eat them mashed with a little butter or honey.

Here is my favorite squash recipe:
1/2 cup green onions (2 bunches), chopped

2 TBSP butter

3 cups cooked, mashed winter squash

1 cup grated Parmesan cheese

4 eggs

1 - 2 TBSP honey

1/2 tsp dry mustard

1/4 tsp pepper

In small skillet, cook green onions in butter until tender. Set aside.
In large bowl combine remaining ingredients and mix well. Add onions
and stir. Pour into greased casserole and bake at 350 degrees F (175 C) for 30 to 40 minutes or until set.

Carla



Another Spagetti Squash Recipe

Another variation of the Spagetti Squash.

I just love this as the main course with a small portion of beef stake.

Take a spagetti squash approx 7 to 8+ACI- long cut it into two halves length wise. Clean the seeds out of both halves. I put one half in the fridge for another day.

Place a teaspoon full of butter in both ends of the hollowed out area where the seeds used to be.

Cube one tomato and lay into seed area.

Dice 1/2 a spanih onion lay over the tomatoes. Add a small amount of chopped green bell peppers, and /Or some fresh chopped celery.

Add salt and pepper to taste, or your favorite spices.

Place in a micro wave proof dish and cover with med heat for 12 to 15 minutes untill a fork penetrates the squash easily.

This will feed two adults a good size meal.

Bon apetite.

William



Squashes and Quiche

Claudette Cameron wrote:

> I am not used to cooking with squashes and could sure use some recipes. I

> know what to do with the "spaghetti" squash, but would sure appreciate some

> recipes for the othe types. I have purchased some pepper squashes and

> another type of squash they call summer squash but am not sure just how to

> use them. Any suggestions?Much thnaks.... Claudette

Butternut sqaush is the BEST!

Try cutting it in half, baking for 1.25 hours on 350 degrees F (175 C), scrape out the seeds, put some butter, salt and pepper on it, cover with swiis or parmesean cheese, bake another 10 minutes and enjoy.

Also try taking pumpkin, mixing with 3-4 eggs and spices, mix in chunks

of asparugus, cauliflower and mushrooms, cover with swiss or cheddar and bake in a well buttered dish for about an hour on 350 F (175 C). Makes a sort of quiche/caserole.



1 medium Butternut Squash cubed
16 ounces fresh coconut milk (used canned if necessary, make sure it doesn't contain any illegals)
1/2 tsp honey
1 sweet red pepper (thinly sliced)
1 med.red onion or sweet onion (thinly sliced)
curry paste to taste, I used Thai red curry paste, my sister uses yellow. Read the ingredients to determine if the paste is SCD legal (or make your own)!

Saute peppers and onion in a little oil.
In a large pot, heat the coconut milk and then add curry paste to your taste.
Add 1/2 tsp honey
Add onion and pepper to liquid.
Pre cook squash in micro wave for about 10 minutes.
Add squash to pot, simmer until flavors blend (20 minutes).

The next day there was a lot of leftover sauce and a bit of squash, I added some water, pureed with the hand blender and it made a nice soup.

Liz Lutz UC




We make something we call Pizza Casserole because it reminds us of a vegetarian pizza. It uses cheese so it depends on your vegetarian persuasion.

Thinly slice zucchini the long way so it looks like lasagna noodles. Lay a 1/4 - 1/2 inch layer in the bottom of a pan with a lid (works better than one that needs foil), next very thinly sliced onion all over the top, then you can put thinly sliced green pepper (we don't right now) then peeled and sliced tomato. Sprinkle with dried basil and salt and bake at 350 F degrees covered until veggies are desired doneness then sprinkle with shredded white cheese and put in the oven a couple minutes until melted. (We use a sharp, white, cheddar.) We bake it an hour because we're still doing well done veggies.

Not meaning to tread on your dietary beliefs but I was a vegetarian for five years before starting this diet and feel so much better with meat. I eat more chicken than beef. You might want to consider it.



Shannon
(UC - husband - Lyme Disease - Both)
Idaho



1/4 cup water
14 teaspoon salt
l1 lb. zucchini, coarsely chopped
1 tablespoons butter
1 cup sliced fresh mushrooms
1/3 cup chopped onion
4 eggs,s beated
1 1/2 cups shredded Cheddar cheese
1 2-oz. jar diced pimiento, drained
1/8 teaspoon garlic powder
1/4 teaspoon salt
1/8 teaspoon pepper

Combine first 3 ingredients and microwage 8-10 minutes, stirring after 5 minutes. Drain well and set zucchini asisde. Saute mushrooms and onions in butter until tender. Add remaining ingreients and zucchini to sauteed vegetables and mix well. Pour into a greased baking dish. Bake at 350 F (180 C) until eggs are set.



olive oil
onion
garlic
bell pepper
mushrooms
basil
oregano
bay leaves
salt and
pepper



all this sauteed until onions are clear.
Now add a couple of cans of tomato juice, a little dry red wine, if you have some, and simmer gently for a couple of hours. When it's just about finished, you can stir in a little honey to cut back on the acidity. Don't worry about the sauce not getting super thick, it will be a lot thicker than tomato juice and will taste great. Ideally, you already have sauce made the day you make the pizza. I make a large batch of the sauce and freeze it in pint size jars so it's ready for any dish that requires t. sauce.

Now back to the pizza crust. I've skipped adding the almond flour to the batter and it sets up fine. Also, when I double it, I'll cut the egg back a little. I prefer not detecting any egg flavor in the finished product.
I top mine with sliced mushrooms, olives, red and green bell peppers, and lots of thinnly sliced onion. I take it out of the oven when I see the onions just starting to brown. The pizza freezes well in individual size servings.
Reheated, I think it tastes better comming out of the toaster oven. Sometimes I'll reheat until it's just warm in the microwave, then slide it onto a tray or foil and finish heating in the t. oven, until bubbly.

Good Luck!

Lucy





2/3 cup flour (we would use finely ground almond flour)

Make a well in the flour.

Drop in 1 egg

barely combined with:
1 tablespoon water

1/2 teaspoon salt

1 teaspoon oil

Work the mixture with your hands folding the flour over the egg until the dough can be rolled into a ball and comes clean from the hands. If you want to make green noodles, add at this point (2 to 4 tablespoons finely chopped cooked spinach)

Knead the dough as for bread, about 10 minutes. Then let it stand covered for 1 hour (it seems pointless to let nuts stand, no gluten). Now roll the dough, stretching it a little more with each roll.
Between each stretch and rolling continue to sprinkle it with flour to keep from sticking to pin and board.
Repeat about 10 times or until the dough is paper thin or translucent.
You can hang it for a while (like laundry on a clothes line) with plastic or foil underneath it. Before it becomes brittle roll it into a scroll and cut on the bias into any width strips you like.

Cook for apx. 10 minutes in rapidly boiling salted water.




half cup water
half tsp. Vanilla extract
half cup orange juice
quarter tsp. Nutmeg
1 Tbs. Butter
1 half tsp. Orange zest
1 lb. Baby carrots

Put water, orange juice, and butter in a sauce pan. Add carrots. Cover tightly and simmer on low heat 25 minutes or until carrots are crisp-tender. Check occasionally to make sure carrots don't burn. If needed, add a few Tbs water. Sprinkle carrots with vanilla, nutmeg, and orange zest. Mix well.



2 cup water
1 cup cranberries (fresh or frozen)
2 acorn squash, halved, and seeded
quarter tsp. Cinnamon
half tsp. Salt
half sm. Spanish onion,
2 Tbs. Walnuts, chopped (opt)
1 egg white
half Granny Smith apple, peeled and diced
3 tsp. Orange juice or apple cide

Preheat oven to 400*F.
Bake squash for 35 minutes, cut side down in a large dish with 1 half cup water in it.
While squash is baking, prepare filling. Combine onion, apple, and celery in a medium - low heat for 15 minutes or until apple is soft. Remove from heat and add remaining ingredients.
Remove squash from oven and cool enough to handle. Scoop out half of the flesh, leaving enough so the squash retains its shape. Do not break the skin.
Add scraped out squash to apple mixture. Divide stuffing into 4 parts and fill the squash shells.
Bake for 30 minutes or until tender.



>aubergine / eggplant / zuccini
1 large eggplant, chopped
2 small zucchini (summer squash can be substituted for one of the zucchinis)
1 large green pepper, chopped
1 onion, chopped or grated
several cloves crushed garlic
several tablespoons dry red wine
1-1/2 tsp pure salt
1 bay leaf
1 tsp basil
1 tsp marjoram
1/2 tsp oregano
six to eight plum tomatoes, blanched and chopped
tomato juice, simmered down to approx. half cup after about fifteen minutes
fresh parsley
1/4 cup olive oil
black pepper, to taste

Heat olive oil in large pot. Add crushed garlic, bay leaf, onion, and salt lightly. Saute over medium heat until onion turns transparent. Add eggplant, wine and "cooked" tomato juice. Add herbs. Stir until mixed well, then cover and simmer over low heat about ten minutes. Add zucchini and peppers. Cover and simmer another ten minutes. Add salt and pepper; then add tomatoes, and mix well. Continue to stew for a few more minutes until vegetables are tender. Just before serving, mix in the fresh parsley. Top generously with shredded havarti cheese, and sprinkle with chopped black olives (optional). Enjoy...!

P



California Vegetable and White Bean Chili

Hi all,

I got this recipe from

http://food.epicurious.com/e_eating/e02_recipes/recipes.html

Looks really yummy.

Chick peas have been substituted with white beans, since chickpeas are NOT permitted on the SCD.

White navy beans (soaked overnight) are used instead.
1/2 cup vegetable oil

2 medium-size onions, chopped

1 celery rib, chopped

1 small green bell pepper, seeded and chopped

1 garlic clove, minced

2 medium-size yellow squash or zucchini, scrubbed, ends trimmed, and chopped

Two cups of white navy beans (soaked overnight), drained

2 tablespoons chopped fresh coriander (cilantro) leaves

2 tablespoons chili powder

1 tablespoon chopped fresh oregano leaves, or 1/2 teaspoon dried, crumbled

1 tablespoon chopped fresh basil leaves, or 1/2 teaspoon dried, crumbled

1 teaspoon ground cumin

Salt and freshly ground black pepper to taste

Cayenne pepper to taste

4 large, ripe tomatoes, chopped and juices retained

1 1/2 cups tomato juice

In a large, heavy pot, heat the oil over moderate heat, then
add the onions,celery, bell pepper, and garlic, and cook, stirring, till
softened, about 2 minutes. Add the squash and cook, stirring, 3 minutes
longer to soften. Add the remaining ingredients and stir well. Reduce the heat to
a low simmer,cover, and cook for 1 hour, adding a little water if the
stew begins to get too thick.

Makes 4 to 6 servings.




1 (16-oz) package dried pinto beans
2-3 dried red chiles, washed, stemmed, and seeded
4 slices bacon, chopped
2 teaspoons salt
1 large onion, quartered
1 medium green pepper, chopped
1/4 cup honey Sort and wash beans; soak overnight. Drain off soak water and add fresh water to cover beans. Add chiles, bacon, salt, . Bring to a boil; cover, reduce heat, and simmer 1 1/2 hours. Add remaining ingredients and additional water, if needed; cover and simmer 30 minutes or until beans are tender. Remove chiles before serving. NOTE: To make refried beans, heat 1 tablespoon vegetable oil per cup of cooked beans in large, heavy skilled.

Add beans, and mash to desired consistency, stirring as needed until thoroughly heated. Add additional cooking liquid from beans, if necessary.
Editor's note: Pinto beans are not listed in BTVC. We suggest using a SCD-legal bean instead.



Any number of vegetables may be cooked in this sauce and served cold. As a first course or with cold meats or fish as a main lunch dish. Or serve several vegetables a la grecque on a combination hors-d'oeuvre tray with stuffed eggs, sliced tomatoes, thinly sliced cold meat. Vegetables cooked in this manner may be kept in refrigerator for several days.

Sauce:

1 1/2 cups water
1/4 cup olive oil
juice of 2 lemons
1 tsp salt
2 or 3 garlic cloves
1 bay leaf
1 parsley sprig
1 celery top
1 tsp dried thyme
fennel sprig or fennel seeds (optional)
1/2 tsp white pepper
dash of hot pepper sauce

Vegetables (see below)

Combine all the ingredients of the sauce and bring to a boil. Boil for 5 minutes. Add fresh vegetables and simmer until just tender. Do not overcook. Let them cool in the sauce and serve chilled with some sauce spooned over. Or, drain, and serve with vinaigrette sauce. Or, the vegetables can be removed when they're done, the sauce cooked down until somewhat reduced, then cooled and poured over the vegetables. Top with chopped parsley, chives and fresh tarragon.

Vegetable suggestions:

12 small artichokes (about 2 inches) or 12 hearts
2 lbs. large-stalked asparagus
about 20 scallions
12-16 small zucchini (about 2 inches)
12-16 whole baby carrots
1 lb small mushrooms
28-30 small white onions

Janice




Hi!

I thought I would write in with my favorite SCD food at this time of year. Anyone else want to contribute anything to this category? I know we all must have foods we rely on AND look forward to.
Soak White Beans overnight. (I use two small packages from grocery store)

Discard soaking liquid and rinse.

Cover with clean water, bring to boil and skim off foam that forms.

Add:

two yellow onions
two carrots
two cups sliced mushrooms
one rutabagus, grated
2-3 tsp. salt (or to taste)
Ground pepper to taste

Simmer for 2 hours. At end of cooking time, when beans are soft, bring to boil and boil rapidly for at least five minutes. This is what makes the soup really "creamy."

When ready to eat, place a couple slices of swiss cheese on top of soup in bowls.

(optional: adding pieces of cooked chicken to the soup is really good too).

Yum! The perfect wintertime food!

Best wishes,
Denise




4-5 C. your favorite mixed vegs
1 C. chopped onions
2 cloves garlic
1 C. chopped almonds
2 cup water
2 T. butter
1 tsp. horseradish (fresh)
1/2 tsp dry mustard
1 T. tamari (I don't know if this is allowed so I leave it out)
dash tabasco (I use pepper instead)
salt to taste

TOPPING: Additonal 1/2 C. chopped toasted almonds

Saute' onions and garlic in 1 T. butter and a little water (about 5-7 min.). Add vegs. and saute' until crisp tender. Toast 1 C. chopped almonds and place in blender with water. Puree until smooth. Add seasonings and 1 T. butter to sauce. Combine vegs and almond sauce. Pour into buttered casserole. Sprinkle top with additional chopped almonds. Bake 15 min. at 400.

P.S. Last night I made my family tacos. Seasoning the meat with my own spices. In the past I have really missed the good old CRUNCH of the forbidden taco shell. So this time I used the fried cheese recipe from the SCD web site as taco chips and it was great!!! Give it a try, its easy!

Best to all.

Joni




1 cup lentils, picked over, washed and drained
3 cup water
6 T vegetable oil (I use olive)
1 tsp grated fresh ginger
1/2 cup well chopped fresh coriander
1 1/4 lb fresh spinach, trimmed, washed and chopped
2 tsp salt
2 T lemon jouce (more to taste)

Put the lentils and water in aheavy pot and bring to a boil. Cover, turn heat to simmer and cook for 1 hour. Over medium flame, heat theoil in a pot large enough to hodl the spinach. When hot, add the ginger and fry to 10 secs. Add coriander and spinach and still and cook until the spinach is wilted. Now add the cooked lentils and the salt. Stir to mix and bring to a simmer. Cover and cook very gently for 25 minutes. Add the pepper and lemon juice, stirto mix and cook uncovered for another 5 minutes. Adjust any seasonings.



Hi everyone,

These are not my recipes, in fact, I haven't even tried them yet. But I

found them on a low-carb recipe page.

ftp://ftp.nmcs.com/pub/lowcarb/recipes/

They look like they work for the diet and are potentially very tasty.

Denise

1.Cut eggplant into slices (1/2 in thick) or 1 in cubes.

2.Cook eggplant until tender but not mushy
- steam in veggie/rice steamer left over from vlf days (10 minutes)
- or in a pot with a lid and 1/2in water (8 minutes)
- or microwave in some water until tender (only did this once, I think it was about 5 min.)

3. Put eggplant in something that can microwave or go under the broiler or in the toaster oven (or back in the pot, if that's all you have). Add a little spaghetti sauce, some cheese. Broil, nuke, toast or cook until cheese has melted (1 minute).

4. Sprinkle with parmesian cheese.

5. Eat.




1 medium onion - coarsely chopped

8 oz mushrooms - quartered

6 japanesse eggplants - cut in cubes
(or one large regular eggplant, the japanesse are sweeter in my opinion. If you you regular eggplant, you may want to salt and drain for a couple of hours.)

3/4 HEAD of garlic - crushed or chopped fine
(that's HEAD not clove, yes, a lot of garlic
you can use less if you really want to.)
1 cup water

1 Tablespoon dried basil or 1/4 cup fresh chopped salt and pepper to taste.

In a large heavy bottomed pan (or dutch oven), sautee (in water or veggie stock) onions over medium heat until soft and sweet. Add mushrooms,
eggplant, garlic and water. Keep on med - high heat stiring occationally until the water is boiling (about 2 min). Turn down heat to a simmer and cover about 1/2 hour or until eggplant is done and very soft (regular eggplant may take a bit
longer).
Add basil, salt and pepper to taste. Reheat when ready to serve.




_______________

Borscht is readily available in many supermarkets' "kosher food sections" (I use quotes because kosher food is all over the store, but there's often one little section that stocks traditional European Jewish foods like matza, gefilte fish, and borscht... though many
younger folks prefer kosher sushi or fetuccini alfredo... but I digress...)

Store-bought borscht comes in 1-quart glass jars. The ingredients are usually: water, (grated) beets, sugar, salt, and citric acid ("sour salt"). Its taste is kind of on the sweet side, with a hint of sour. I have also seen "no sugar added" borschts which are probably SCD-OK -
if a sweeter SCD borscht is preferred, honey can always be added. It is most commonly eaten chilled, and topped with a dollop of sour cream (for which homemade yogurt is a superb substitute!). Great for hot weather.

Any traditional Jewish-style cookbook will have one or more borscht recipes. If the recipe calls for sugar, honey can be substituted - I think honey is supposed to be twice as sweet as sugar, so half the amount can be used. When preparing beets, I suggest wearing an apron, and don't be surprised if your hands turn bright magenta! For a more elaborate SCD homemade borscht, I turned to Jane Kinderlehrer's
"Cooking Kosher the Natural Way":




2 bunches of beets (approximately 8 beets in all)

cold water

1 onion

2 quarts boiling water

1 tsp salt (optional)

2 eggs

2 tablespoons of honey

1/4 cup lemon juice

Cut the tops off about 2 inches above the beets. Reserve the tops for later use. (Be sure to do this before scrubbing them.) After scrubbing carefully, place the beets in a pot, cover with cold water, and cook for 15 minutes or until fork-tender.

Meanwhile, wash the beet leaves very carefully and chop them fine. Be sure to include the stems: they have good nutrients that shouldn't be wasted.

When the beets are cooked, drain the liquid into a soup pot. Slip the skins from the beets and discard; then grate the beets into a bowl. Grate the onion into the grated beets. Add this to the liquid in which the beets were cooked. Add the chopped beet tops and the boiling water. Add salt if you wish, and bring to a boil; then reduce and simmer for 5 minutes.

Beat the eggs in a bowl. Add the honey and lemon juice. Stir a little of the hot liquid from the borscht into the eggs. Mix it up quickly so the egg doesn't cook. Pour this mixture into the soup pot and - you've got borscht. Serve cold with a spoonful of sour cream or yogurt, or hot (with a boiled potato - not SCD!). Serves 6 to 8."

Deanna

PS: Borsht is most commonly eaten chilled, and topped with a dollop of sour cream (for which homemade yogurt is a superb substitute!). Great for hot weather.



Cool Late Summer Borscht

I found dozens of borscht recipes on the Web - some are *very* elaborate: made with meat, veggie stock, and many kinds of added veggies. There seems to be a great deal of regional (Eastern European, that is) variation. This one sounds pretty basic, as well as SCD-OK:

Clayton Schmitt (schmittc@chiriqui.com)

Yield: 8 Servings
3 lb. beets (about 12 medium)

4 cups apple juice (substitute cider for SCD)

4 cups water

6 tbsp. lemon juice

pinch of salt

2 cups homemade yogurt

1/2 cup homemade yogurt for garnish

6 large red radishes, diced, for garnish

1/2 cup seedless cucumber, diced, for garnish

Preheat oven to 350 degrees F. Wash beets well; trim stems and roots, leaving one inch of each. Wrap beets individually in aluminum foil and place on baking sheet. Bake for 1 1/2 hours or until tender. Remove from oven and allow to cool slightly. Remove skins. Coarsely grate the beets. Place beets in a heavy pot. Add the apple juice (cider), water, lemon juice and salt.
Bring to a boil, reduce heat to a simmer and cook soup for 15 minutes, partially covered, skimming foam that rises to top. Remove from heat and cool to room temperature. Place 2 cups yogurt in a bowl and whisk in about 3 cups of the soup. Gradually whisk this mixture back into the soup pot until thoroughly combined. Chill completely in the refrigerator. Serve the borscht in bowls garnished with a dollop of yogurt, then sprinkle with the diced radishes and cucumbers.

Recipe from Sheila Lukins. Typed for you by Diane Newbury.

Deanna



During the holidays, I was craving stuffed shells and manicotti -- or, more specifically, a baked ricotta cheese-like food -- so I came up with this recipe as a subsititute. Although I haven't tried it, I think chopped broccoli would work as well as the spinach
1 lb dry curd cottage cheese
2 eggs
1 package frozen chopped spinach, thawed and drained
1 clove garlic, minced finely
salt and pepper to taste

Mix all ingredients together well, and pour into a loaf pan. Bake at 350 degrees for about an hour until the mixture has set and the top is golden brown.

Cool and slice -- great served with tomato sauce or heated with melted provolone cheese.

Enjoy!

Tara -- UC



1 cup lentils, picked over, washed and drained
3 cup water
6 T vegetable oil (I use olive)
1 tsp grated fresh ginger
1/2 cup well chopped fresh coriander
1 1/4 lb fresh spinach, trimmed, washed and chopped
2 tsp salt
2 T lemon jouce (more to taste)

Put the lentils and water in aheavy pot and bring to a boil. Cover, turn heat to simmer and cook for 1 hour. Over medium flame, heat theoil in a pot large enough to hodl the spinach. When hot, add the ginger and fry to 10 seconds. Add coriander and spinach and still and cook until the spianch is wilted. Now add the cooked lentils and the salt. Stir to mix and bring to a simmer. Cover and cook very gently for 25 minutes. Add the pepper and lemon juice, stir to mix and cook uncovered for another 5 minutes. Adjust any seasonings.


Vegetable dishes page II >>