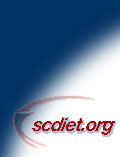 Below you'll find some of the cookie recipes that members of the SCD mailing list have mailed to one another.... If there is any contradiction between instructions in Breaking the Vicious Cycle and any recipe in these archives, kindly adhere to what the book states.





Anyone ready for some new adapted recipies? The first one we call Cinnamon Flop. It's the closest thing to a high calorie pan of brownies that I've been able to come up with so far. We named it "Flop" because it flops, falls quite flat, after rising high in the oven and sometimes running over. Be sure the pan you use is at least 81 square inches.

350 F (180 C) for approx. 30 min.

Blend in blender

1/4 cup soft butter
1/2 cup honey
1 egg

Mix together and set aside

1 cup almond/pecan flour (1 use one-half cup of each)
1 teaspoon baking soda
1/4 teaspoon salt

Add 1/2 cup yougurt to the egg-honey mixture alternately with the flour mixture.

Pour into 9"X9" pan

Topping Coat at least 1/2 cup chopped pecans with cinnamon and scatter them over the top of the batter. Then dribble honey over all.

Bake and enjoy!!







1/2 cup peanut butter (no sugars!)

1/2 cup creamy/solid type honey (not liquid honey)

1/2 cup almond flour

chopped peanuts


Mix peanut butter, honey, almond flour together. Roll by hand into balls. Roll balls in chopped nuts to coat the outside. I keep them in the fridge and they have a pretty nice consistency to them.

Enjoy!!

Barb



peanut butter
honey
pure vanilla
Shape into balls and freeze.

Keep in mind, I believe it was a few too many of these addicting little treats that set my son reeling back into a serious relapse. They are indeed delicious, but in our house, we now use almond butter instead.

Warmly,
Paula



I thought I would share this with the group since all of you have given me good tips for recipes.

Follow the the Peanut Butter receipe that is in Elaine's book, and add 1 cup of sliced almonds and 1 cup of unsulphered sliced coconut.
(I bought it at a health food store).

If the coconut is not available in your area, put 2 cups of sliced almond into the receipe.

Make the cookies small (1 teaspoon for better consistency) and bake for 15 minutes at 325 degrees.

I hope you enjoy them as much as I have enjoyed them.

Bob Chisam
_______________
Subject: Re: Peanut butter cookie advice

Renee,
I was looking at the peanut butter cookie recipe in the book but I thought to myself, how can it possibly work with no almond flour or solids? It seems like it would be all runny and not form together. Does it really turn out? Anna

_______________


Subject: Re: cookies

I wondered the same thing, but I was pleasantly surprised at the terrific results. :)

I ground the almond flour as thin as I could, and dropped the cookie dough on the buttered cookie sheet in rounded teaspoonfuls. The cookies did expand on the cookie sheet, and came out thinner than a traditional peanut butter cookie, but they held together just fine. They became a nice golden-brown around the edges. They are moist, with a wonderful peanut-buttery texture; different from the other cookie recipes I've tried so far. You don't really notice the almond flour in the end result, except for an occasional crunchy spot with any larger pieces of almonds.

Hope this info helps, :)

Renee

_______________


Subject: Re: Peanut butter cookies

Just a note:
Peanuts are generally difficult for anyone to digest, so if you get yourself addicted to the peanut butter cookies, you may start to experience problems like gas, etc...
Eat with moderation!

_______________


Subject: Re: peanut butter cookies

Dear Anna,
Glad you liked the cookies. Here is my version of the peanut butter cookie:
cut the butter in half and add 1/3 cup almond flour. If you are using unsalted peanut butter add 1/3 tsp salt. If you find that the bottoms are burning, cook longer at a lower heat.
Lucy


_______________


Subject: Re: peanut butter cookies question

Has anyone else tried to make the peanut butter cookies on p. 108 of BTVD? I have had 2 failed attempts (they are either too mush or burnt.) I would LOVE for someone to share any cookies and/or treats recipes that work, as I am relatively new on the diet and and having MAJOR cravings for the Holidays. Thanks! >>

I had to try several times before I got the Peanut Butter cookies to come out okay. I ended up using Buckwheat Honey in the recipe for better taste. As far as cooking them so they aren't mushy in the middle or burnt on the bottom, that is the tough part. I ended up spreading out heaping tablespoons on a greased cookie sheet and flattening the cookies after about 10 minutes with a fork to get them to cook more evenly. I also really like the Monster Cookies. I put in extra raisins and extra walnut pieces. They are great.

Brian






Someone asked about cooking these hi-cal treats -
4 cups of almond flour
1/3 cup melted butter
1/4 tsp baking soda
1/4 tsp salt
1/2-1 tsp SCD-legal vanilla
1/2 cup honey
1/2 cup raisins
1/2 cup unsweetened coconut flakes
1 heaping tablespoon of natural peanut butter
2 eggs

The raisons, coconut, and peanut butter are optional. Another option is 1/2 cup of pecan pieces. Most of these ingredients can be modified to taste and consistency, for example the honey and the butter.

The secret to cooking these is that they have to be tended. I cook dough balls of this mixture on two cookie sheets at 350 F degrees (180 C) for 6-8 minutes and then flatten them with a fork. Then I lower the temp to 300 F (150 C) for another 10-12 minutes. Every few minutes I alternate the two sheets on the oven racks. Another thing is to use heavy duty cookie sheets that are extra thick to help avoid burning.

Bart



1 cup finely chopped (not ground) cashews

1/8 - 1/4 tsp ground cardamom

1 cup finely chopped dates

grated peel of one orange

1/2 cup coconut toasted and then powdered in blender
Mix all ingredients except coconut. Form into 1" balls (makes 18).
Roll in coconut.

Nancy




4 cups almond flour

1 stick butter (1/2 cup)

1/2 cup honey

2 eggs, beaten

1 tsp. baking soda

1/4 tsp salt

1 tsp vanilla

1/2 cup raisins

1 cup chopped pecans

1/2 cup unsweetened coconut

Melt butter and stir in the rest of the ingredients adding the flour, coconut, raisins and pecans last. Cook at around 315 F, until they just start to get a little brown. The temperature and time can vary depending on your oven and cookie sheet.

This is currently my favorite cookie. Make them and take them to work!
Lucy




I just found this recipe in the Daily News. I substituted honey for the sugar, baked them this morning and they were fabulous.



Dough:
400 gr almond flour (3 cups)
100 grams butter (1 stick)
1 egg
1 teaspoon water
approximately 1/4 - 1/3 cup honey
pinch of salt

Add:

1/2 tsp allspice
1 tsp ground ginger
1/2 tsp ground cloves
1/2 tsp cinnimon
1 tsp baking soda

Blend dough in a bowl and add more almond flour if necessary until the dough is dry enough and not sticky to work with. Place dough in fridge or freezer for approx. 15 min - 1/2 hour.

Roll the dough out and cut with cookie cutters. Bake at 350 degrees F (180 C) for 10 minutes.

I rolled the dough between 2 pieces of buttered wax paper and didn't have any problem with it sticking. I baked them for 5 min on the middle rack & then 5 min on the top rack, so they would brown evenly. I didn't have any allspice or ground cloves, so I added nutmeg, & they tasted fine.

I hope you like them..
Diane,
Florida
–––––––––––––––––
Subject: Re: Shaped Cookies?

Hint:
These gingerbread cookies got a much better response in my house with a bit more honey than indicated in the original recipe.

I had to at least double the amount of honey in the recipe. My first go 'round, they tasted like...well, uh...cardboard. ; P

After some sweetening up, they were a big hit. ; D

warmly,

P




1 1/2 cups unsweetened shredded coconut

1/2 cup unsweetened chopped dates

1/2 cup chopped walnuts

1/2 cup (or more to taste) honey

1/2 cup almond flour (adjusted)

1/8 tsp. salt

pinch ground anise or any other similar "sweet" spice optional

1 egg beaten

1 tsp. brandy, or dark rum, or bourbon optional

Mix all ingredients well. Adjust almond flour so that dough has a cookie dough consistency. I mean that you can take a spoonful and it holds together well. Place walnut size pieces on a greased cookie sheet about 1 inch apart and bake at 350 F (180 C) for about 15 mins. or until edges and top are browned. Don't overcook, you want them very moist in the middle.




(with a little help from "Joy of Cooking") Preheat oven to 300F
3 egg whites
1/8 tsp salt
Add 1/3 cup honey slowly, beating constantly. Fold in:
1 tsp vanilla
1-1/4 cup unsweetened coconut Fill paper muffin cups about 1/2 full.
Bake for about 25 - 30 min., or until tops are lightly browned.
Makes about 12 macaroon muffins.

Lucy Rosset (www.lucyskitchenshop.com)

I usually double the recipe. The leftover yolks can be used for making custard or Lois Lang bread, etc.



>meringues, macaroons, biscuits
Basic method:
Beat the egg whites with an electric whisk, until very stiff. Gently warm the honey until it becomes runny.
Drizzle the slightly warmed honey into the egg whites, while beating continuously.
Gently fold in the other ingredients, then pipe or spoon the mixture in small blobs onto a greased baking tray.
You do not need to actually BAKE them, instead you dry them out. Oven temperature: 120 degrees Celsius, until the blobs are crisp and dry.
This will take a long time - at least an hour. Then turn off the oven and allow the food to cool inside - this adds even more drying time.



MACAROONS

4 large egg whites
1 cup of honey
450 grams of desicated coconut

MERINGUE BISCUITS

4 large egg whites
1 cup of honey
5 cups of almond flour

MERINGUES

3 large egg whites
1/8 teaspoon salt
1/4 cup honey
1/2 teaspoon SCD-legal vanilla


I add finely chopped pecans sometimes.
You need to butter the pan and make small meringues.



Cecilia
Melbourne, Australia



1/2 c.. butter, softened
3/4 c. honey
2 lg. eggs
1 tsp. vanilla
3 1/2 c. almond flour
2 tsp. cinnamon
2 tsp. anise seeds (not for introductory SCD)
1 tsp. baking soda
1/2 tsp. salt
1 c. sliced almond
3/4 c. dried unsweetened cranberries

1. preheat oven to 325 F (175 C)

2. In a lg. bowl, beat butter and honey till light and fluffy Beat in eggs and vanilla

3. In a med. bowl, whisk together flour, cinnamon, soda and salt. Stir in nuts and dried fruit until well distributed. Mix dry ingred. into butter mixture until well blended. Gather dough into a ball; cut in half

4. On a greased cookie sheet, shape each half of dough into a 10-by-3-by1-inch log.
Bake for around 20. min. or until lightly browned and slightly firm. Remove from oven; cool 5 min.
Move logs to a cutting suface.
Reduce oven temp. to 275 F
Cut each log into 1/2 inch strips; return to baking sheet, arranging slices cut side up. Bake for about 20. min.until crisp throughout.

5. Cool completely on wire racks. Store in tightly covered container. Make 3 doz. biscotti


As with all SCD baking I fool around with timing and oven temps. I usually place what 'Im baking on two extra cookie sheets so the bottom of things don't brown too fast and cover with a sheet of foil half way if the top is browning too fast before the middles done ect. The low oven temp. more drys them out than really cooks them the second time so they get crunchy. They spread out on the cookie sheet during the first baking but stay separate. They are nice for dipping in tea.