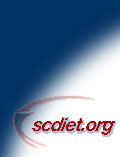 SCD Recipes

Below you'll find some of the beverage recipes that members of the SCD mailing list have mailed to one another.... If there is any contradiction between instructions in Breaking the Vicious Cycle and any recipe in these archives, kindly adhere to what the book states.


1/2 banana

1/2 cup of crushed pineapple

1/2 cup yogurt

2 tbsp honey

dash of coconut extract

Blend in blender. I usually add an ice cube and down it!! Hope you can enjoy!!
Regards,




5 huge tablespoons of yogurt

0.5 cup of frozen fruit - strawberries, cherries, peaches etc

1 bananna

sweeten with honey

Blend until smooth, drink and smile knowing its really good for you.

Gerry




Spiced Cider

1 1/2 quarts apple cider

3 c. pineapple juice

10 whole allspice

6 cloves

5 cinnamon sticks

Combine everything & heat slowly over medium-low heat 15-20 minutes, stirring occasionally. Strain. Serve hot. Serves 10.

Per serving: 115 calories, 0 grams fat, 0 mg cholesterol, 0 gm protein, 29 gm carbohydrate, 5 mg sodium.

Deborah L. Whitmire




8 cups apple cider

1 t. whole cloves

2 cup pineapple juice

Juice of 1/2 lemon

2 teaspoon raisins or currants

2 teaspoon honey

1 large orange,sliced into rounds

1 lg. fresh pineapple,

2 cinnamon sticks, broken into eeled & cut into 10 pieces

wedges

Combine all ingredients except pineapple wedges.
Simmer over medium-high heat 15 minutes. Pour into pre-warmed mugs or
transfer to slow cooker set on low.
Garnish each serving with pineapple wedges. Makes 10 c.

Per cup: 0 gm. fat, 0 mg.cholesterol, 1 gm. protein, 52 calories, 13 gm.
carbohydrate, 40 mg. sodium.

Hope you enjoy!
Debbie




Almond Milk

Almond milk is an ingredient common in Medieval European recipes, particularly in Lenten dishes (milk, eggs, and meat broth all being forbidden in Lent). The recipe below is a basic one. For some recipes we make a thicker almond milk with more almond relative to the amount of water; other recipes say "draw up a good milk of almonds with broth (or wine)", in which case the broth or wine is substituted for the water in making the almond milk.

To make almond milk: Take 1/4 cup (1 3/4 oz) blanched slivered almonds.

Put them in a food processor, run it briefly. Add a little water, run it longer. Continue adding water and running the processor until you have a milky liquid. Strain through several layers of cheesecloth. Put the residue back in the food processor, add a little more water, and repeat. Continue until the residue produces almost no more milk. Throw out the residue. This should give you about 1 cup of almond milk.



1 1/2 to 2 tablespoons minced fresh ginger
1/2 tablespoon grated lemon zest
5 cups boiling water
2 tablespoons freshly squeezed lemon juice or more to taste
4 tablespoons honey or to taste

Put the ginger and lemon zest in a pitcher and pour in the boiling water. Stir, then let seep about 1 hour. Strain the liquid. Stir in the lemon juice and honey. Taste and add more lemon juice or honey if desired. Serve chilled.

Serves 4-6



Hi Shannon,

I also drink fresh ginger tea.


I use a fresh piece of ginger (1/2 the size of your index finger.) Grate the ginger into two cups cold water in a small pan , bring to a boil, shut off flame and allow to steep for a few minutes.
You can let it steep as long as you like (or can tolerate) it gets very strong and stings as you drink it if steeping for too long.
I personally like it very strong, but others might not.
Add lemon and honey to taste.



Ruth



To make ginger tea, peel and grate about 1tsp. fresh ginger.
Pour boiling water over it and let it steep for at least 15 min.
Strain, squeeze a wedge of lemon into it.

Best regards,

Janice