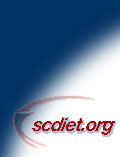 Below you'll find some of the chicken and turkey recipes that members of the SCD mailing list have mailed to one another.... If there is any contradiction between instructions in Breaking the Vicious Cycle and any recipe in these archives, kindly adhere to what the book states.





2 lbs. raw ground turkey
2 cloved chopped garlic
1/4 teaspoon salt
1/8 teaspoon pepper
1/3 cup chopped green pepper
1/3 cup chopped green onions
1/3 cup chopped fresh mushrooms
sliced of cheddar cheese
6 slices bacon

Combine turkey, garlic powder, celery salt, and pepper; mix well, and shape into 12 thin patties. Combine green peper, green oinions, and mushrooms; spoon 2 rounded tablespoons of vvegetable mixture on top of half the patties.

Top each with half of a cheddar cheese slice and a remaining turkey patty, sealing edges. Wrap bacon around each patty and secure with toothpick.

Place patties on greased broiler rack; bake at 350 F (175 C) for 20 minutes or until done. Place under broiler for an additional 2 minutes or until bacon is browned.



1/4 cup finely chopped onion
1 tbsp. vegetable oil
1 small apple, grated
1 tbsp. chopped fresh chives or green onion tops
1 tsp. celery salt
1/2 tsp. ground sage
1/8 tsp. pepper
1 lb. ground turkey

Saute the onion in oil. In a bowl, combine onion with apple, chives, celery salt, sage and pepper. Add turkey; mix until well blended.
Form mixture into 4 patties.



1lb ground turkey
1/4 tsp. Cinnamon
1 cup homemade yogurt, divided
1/8 tsp. ground cloves
half onion, chopped
quarter tsp. Chili powder
1 Tbs. Lemon juice
1 half tsp. Fresh dill
quarter cup parsley, chopped
half tsp. Dried dill
half tsp. Garlic, minced
quarter tsp. Pepper
half tsp. Salt

Preheat oven to 400*F. Mix the turkey with 3 Tbs. Yogurt, onion, lemon juice, parsley, garlic, salt, cinnamon, cloves, and chili powder. Shape into 20 meatballs, each 1 half inch in diameter. Place on a shallow pan and bake 25 minutes turning meatballs once midway through. While the meatballs are cooking, mix remaining yogurt, dill, and pepper to make the sauce. To serve, pour yogurt dill sauce over meatballs.



2 tsp. Oil 2 Tbs. Parsley, chopped

1 cup onion, chopped half tsp. Salt

1 lb. Ground turkey quarter tsp. Pepper

3 Tbs. Mustard (Dijon)

Sauté onions in oil until lightly browned. Mix all ingredients together and shape into 5 patties. Cook in skillet on medium heat approximately 12 minutes.



THANKSGIVING RECIPE

Chestnut Turkey Stuffing

I got this from from Don, on the Paleofood list.

"You might try using chestnuts as part of a stuffing for roasted poultry, particularly turkey. My Grandmother always added chestnuts to her stuffing. It adds a very pleasant nuttiness to the stuffing. Cut the chestnuts in

half and boil them in water until tender then remove shells and inner peel or boil in the intact shells with a cross hatch cut in the flat bottom to aid peeling. Cool and crumble the pieces into a large mixing bowl. Add

sauteed ground meats and sausage, sauteed onions or shallots or garlic, .... egg and herbs and seasonings of your choice. Blend well and stuff."


Cecilia



Turkey Stuffing

We just made stuffed mushrooms that were delicious!

You can use this to stuff a turkey or serve as an accompaniment. The following serves about four people. (Although my son ate it all in one sitting!) Just quintuple the amounts to serve 20 as a side dish.

Saute six bacon (no sugars added) strips. Remove the bacon strips and set aside. To the bacon drippings in the pan, add:
1 shallot (minced)

2 cloves garlic (minced)

freshly ground black pepper to taste

1/2 cup (approx.) pecan meal

1 pkg mushrooms (chopped)

Saute the above for several minutes. Then add 1/4 cup chopped fresh parsley
and the bacon (crumbled).

Combine this mixture with 2 more Tbs of butter (optional).

Place in baking dish and top with grated cheddar, warm in hot oven.

mmmmmmmmmmmmmmmm. (okay, so I AM a vegetarian but my son said it was amazing!! ...and despite two decades of no meat, I was actually tempted.)

As far as cranberry sauce: I am certain you can make something delicious by simmering whole cranberries, with orange juice, a bit of orange rind, and a generous amount of honey. Perhaps try adding a bit of coconut and chopped walnuts. YUM!! I bet it far surpasses any canned stuff you'll ever have.


Bon appetit.

P



This is how I make my stuffing, and I think it's really good. It is a version of the stuffing in the book, but I make it somewhat different. I don't have exact measurements. Just add ingredients to taste.

White navy beans (soaked overnight, drained, and rinsed)

onion chopped up

green pepper chopped up

diced celery

diced apple

raisins

the needles from one bunch of fresh Rosemary

hazelnuts

mushrooms

salt

a tiny bit of tarragon if desired

orange zest of desired

Just mix all of these ingredients and stuff inside of a chicken or turkey. Even though it's not the classic bread stuffing, it's really delicious, especially with the rosemary, and smothered in gravy. Enjoy!

Cathy Yokota : )





Turkey Stuffing (II)

i know it's a little late - but i just wanted to share this scrumptious stuffing my mother-in-law made a few years back for turkey which i was able to get last nite. it was absolutely delicious and does not have to be modified in any form for scd!!

1/2 lb. pork sausage/ground pork w/spices (paprika, pepper, salt, etc.)

turkey livers

1 lb chestnuts

3 shallots

2 garlic cloves

1-2 T butter

salt / pepper



chop turkey liver and shallots fry liver, shallots, pork with butter on side - boil chestnuts with salt (for about 10-15 min) peel chestnuts and puree them in processor add chestnuts to meat mixture, mix, add salt and butter - then stuff turkey